Frank Millers Sin City is out on April 22nd.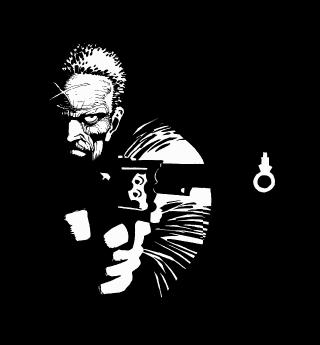 The air-conditioner in this cheap hotel room is a clanking piece of junk that couldn't keep a glass of water cold, if you sat it right on top of it.
My woman lies dead at my side.
Cops banging at my door, they got here too quick, it stinks of a frame up, whoever set this up paid allot of cold cash for it.
Next time they catch me, I fry.
No reason to play this one quiet, no reason at all.
No reason to play this any way but my own.
The old days are back, the bad days, the bloody days, the all or nothing days.
Whoever killed you Goldie, they are going to pay, and not quiet like you went, no, they die loud and nasty, slow and long.
My kind of kill.
The Trailer is available at
http://www.apple.com/trailers/miramax/sin_city.html
Sin City stars
Mickey Rourke (back at last, Fuck Yeah!)
Clive Owen
Bruce Willis
Benicio Del Toro
Jessica Alba
Rosario Dawson
Elijah Wood
Maria Bello
It is co-directed by the comic writer and artist Frank Miller, frame for frame from the original comic masterworks. Robert Rodriguez helms the other half, and to get Miller on board he had to resign from the Directors Guild to get the film made.
Its gonna be the film experience of 2005.
It's time to prove to your friends that you're worth a damn, sometimes that means dying, sometimes it means killing a whole lot of people.
Peace and Hope
FatherCrow.